5th Wheel vs Travel Trailer – Touring around the states from campsite to campsite is a lot of fun. Many people do this occasionally, and some of them even do it full-time. Obviously, most of them use RV to ease their activities. RVs can help them bring all kinds of amenities to their camp. However, for people who just started to have an interest in owning an RV, it might be hard for them to choose one at first.

The first thing that you need to know about RVs or campers before selecting one is the types. There are many types of campers, but they are categorized into two: towable and motorized. The towable include 5th wheels, travel trailers, and tent trailers, while the motorized includes class a, b, and c motorhomes. Of course, they all have both pros and cons regarding their ability to fulfill your needs at the campsite. However, since the towable are more accessible by most people, we're not going to talk about the motorized ones.

The towable are favored by many because of their portability and lower prices. However, 5th wheels and travel trailers are more common and similar to each other than tent trailers. It's going to be fair if we only compare these two. With that in mind, let's start to understand their pros and cons.
5th Wheel Pros and Cons
It's essential to know the advantages and disadvantages of something before buying, including a towable camper. At first glance, a 5th wheel trailer and a travel trailer have a lot of similarities. However, if you look closer, you can start to notice the differences.
A 5th wheel camper is also called a gooseneck camper. It's called a gooseneck camper because of its lower frame that resembles a goose's neck. Its shape is the first thing that people notice when they compare the 5th wheel with a travel trailer side by side.
There are a few advantages of a fifth wheel over a travel trailer that you can consider when you are looking for a towable camper. The first one is its abundance of living space and storage. You will never feel crowded, thanks to its higher ceiling; Secondly, because of its larger space, most of them have more home-like features. It will make your RV living more comfortable; Lastly, it's more stable when towing. Its design puts the weight forward on the towed vehicle. It makes the weight more centered and balanced. It makes the first time pulling a 5th wheel easier for newbies.
Despite those advantages, the 5th wheels also have some disadvantages that you need to know before starting your 5th wheel RVing. First, a 5th wheel tends to cost more than a travel trailer. It's because of its larger living space and more features that it has; Secondly, you need a bigger tow vehicle. Because of its shape, you need to have a pickup truck to tow it. Unfortunately, if you don't have one, you will need to add more to your expenses.
Related : Type A Motorhome
Travel Trailer Pros and Cons
After knowing several pros and cons about the 5th wheel camper, now let's discuss its rival, the travel trailer. Travel trailers come in many types and variations. You can have something as simple as a fiberglass egg-shaped travel trailer to a multi-million-dollar luxurious travel trailer. Now, let's examine its pros and cons so that you can consider it as your travel companion.
The first advantage that you will get from a travel trailer is its cost. Travel trailers tend to cost less than motorhomes, even 5th wheel campers. It's mainly because of its towable feature and smaller size; Secondly, it allows you to use a variety of cars. If you have a car, any car, you will most likely be able to tow the travel trailer with it. As long as the travel trailer is not very heavy, any vehicle will work just fine. Lastly, it offers more mobility. You can use the towing car to explore campsites thoroughly.
Travel trailers also have several disadvantages. First, it's difficult to tow. If you overload the travel trailer or the hitch that connects the car and the trailer is not great, you might get some issues when towing; Secondly, you will have smaller space, even when compared to a 5th wheel. It causes the travel trailer to fit fewer amenities. Lastly, it's less maneuverable. Its hitching system makes it less stable compared to the 5th wheels.
Another thing that you can add to your assessment is the design possibility. By knowing the design of each towable camper, you will be able to imagine living inside them. You can imagine the possible layout and decide whether it would be comfortable or not. Therefore, in the next part of this article, we will display quite a lot of 5th wheel and travel trailer designs for you to consider.
5th Wheel Design Ideas
After knowing the plus and minus of a 5th wheel camper, you might want to look for the interior design. Fortunately, there are plenty of ideas available out there. And we have gathered our favorite 5th wheel design ideas for you to choose from.
Related : Type B Motor Home
Minimalistic light-colored wood 5th wheel interior
This interior design looks simple and straightforward. Not only it leaves so many open spaces, but it also makes the room feel more refreshing and comfortable to use. People can play board games on the empty area in front of the queen-size bed. The soft-colored wood material gives a classy impression. And more importantly, the design managed to fit a bunch of storage spaces.
Modern farmhouse 5th wheel interior
This 5th wheel interior design brings the farmhouse style to a whole new level. It perfectly combines the rustic vibe of the farmhouse style with contemporary design. The result, undoubtedly, will satisfy both the traditional design and contemporary design lovers. Not only this design offers the beauty of solid maple hardwood, but it also provides an abundance of storage and appliances.
Majestic white 5th wheel interior
The white tone is the main point of this interior design. Its clean design brings fresh air and brightens the vibe. Moreover, it has plenty of counter space surfaces to use. It will be an excellent feature for people who love to cook and eat inside the camper. However, with such a vast interior, it might be important to consider more seating.
High class 5th wheel interior
For people who adore luxurious and classic design, this 5th wheel camper design might be perfect for them. It achieves the classy look by using dark wood as the primary material. Moreover, it also uses the wood pattern to accent the wall. The built-in TV on the wall, along with the built-in digital fireplace, enhances its elegance.
Dark brown and grey 5th wheel interior
This 5th wheel interior combines grey and dark brown color very well. The combination not only creates a calming atmosphere in the room, but it also gives a formal and classy vibe. Moreover, the dried wood pattern on the flooring adds a bit of rustic vibe.
High-end retro European 5th wheel interior
Many people love classical European architecture and its unique carvings. Those people would probably like to adopt this design. This design utilizes teak wood for most of the furniture and overall interior. Furthermore, it has plenty of lighting scattered throughout the interior that helps to accentuate its beauty.
Modern teak 5th wheel interior
The abundance of living space makes it possible to pull off this type of design. The glossy finish of the teak material gives the room a modern and luxurious look. Moreover, the circular pattern on the ceiling, along with the modern-looking chandelier accentuates its gorgeous design.
Vintage 5th wheel interior
This vintage 5th wheel interior looks very simple and straightforward. Even so, it managed to fit standard features such as U-shaped dinette, ample kitchen space with its fixtures, and multi-leveled bed. Moreover, its sufficient lighting is perfect for conserving energy while being functional.
Concise yet formal 5th wheel interior
Its concise layout makes this room perfect for people who want to separate their 5th wheel into a few sections. Although it's small, it managed to fit a few couches, an island, and a bunch of cabinets. Its design also looks quite formal and elegant.
Eclectic 5th wheel interior
This 5th wheel interior design picks plenty of inspiration from different designs to create an eclectic look. There are a bunch of decorative items that keep the room from being dull. Moreover, because of its higher ceiling, this design was able to level up a part of the room to enhance its unique character.
Futuristic 5th wheel design
You might need to spend more money to pull off this design. Its custom-designed lighting gives an expensive impression. Although expensive, this state-of-the-art design will definitely be worth it.
Cheerful 5th wheel interior
This interior design has a cheerful atmosphere. Its bright, lively, and homey vibe will be perfect for a family vacation. Therefore, this 5th wheel design will be suitable for the average family with kids.
Travel Trailer Design Ideas
Some of you might already choose one type of camper between the two. For you who decide the travel trailer over a 5th wheel, this part is for you. We picked some of the best travel trailer design ideas that we found to inspire you.
Concise submarine travel trailer interior
This small and straightforward travel trailer interior uses a reflective metallic interior to make itself more spacious. Furthermore, the grey-colored sofas not only blend well with the interior, but it also acts as a nice background for the lighter-colored pillows.
Modernized vintage travel trailer interior
One thing that makes this design stand out from the others is the decorations. There are so many decorative items, from sunflowers to wall lamps. They all contribute to making the vintage design to be more gorgeously modern and stylish.
Monotonic travel trailer interior
Its black and white design creates a nice minimalistic look. The concise layout amplifies its simple design even more. Although it looks small, it managed to utilize every corner efficiently. You can also find a cabinet under its U-shaped sofa.
Black, brown, and bold travel trailer
This design is another solution when it comes to maximizing the limited interior space. Its black accent highlights the brown parts of the room very well. Moreover, its precise item placement and seamless design of the cabinets keep them neat and secure while on the road.
Calming travel trailer interior
Sufficient natural and artificial lighting is the first impression that you get from seeing this design. The blue sofas and ample windows make this travel trailer interior feel less narrow. Besides, they also create a calm tone and make the vibe more refreshed.
Light-toned wood travel trailer interior
The same color tone throughout the interior makes this design look sleek and seamless. The sufficient lighting, the big windows, and the bright color tone prevent this travel trailer interior from feeling crowded. And one thing to appreciate, despite its limited size, it managed to fit a full-fledged kitchen in it.
Tree house style travel trailer
This interior feels like an expanded treehouse. Almost every part of it, from corner to corner, is made from the same wood material. Furthermore, the layout and lighting placement is perfect for making the room cozier.
Simplified travel trailer design

Among other designs that we found, this might be the simplest. Yes, it's very straightforward and has quite limited living space. But, its bold interior and the sufficient number of windows help to make the interior feel more pleasing and less claustrophobic.
Classy travel trailer interior
The dark brown and black colors add a nice contrast to the white background of the interior. The open space in the center makes the interior feel roomier. Also, the large glass windows and the flowers support its spacious interior to create a refreshing atmosphere. TV placement is one example of how great the layout is. It's right in front of the dinette and far from the quiet and cozy bedroom.
Advanced travel trailer design
Bright colors and rounded furniture is the main point of this design. This design utilizes those two aspects to create a futuristic look. Furthermore, the contrast between the darker and lighter parts in the interior balances the vibe very well.
Sleek and modern travel trailer design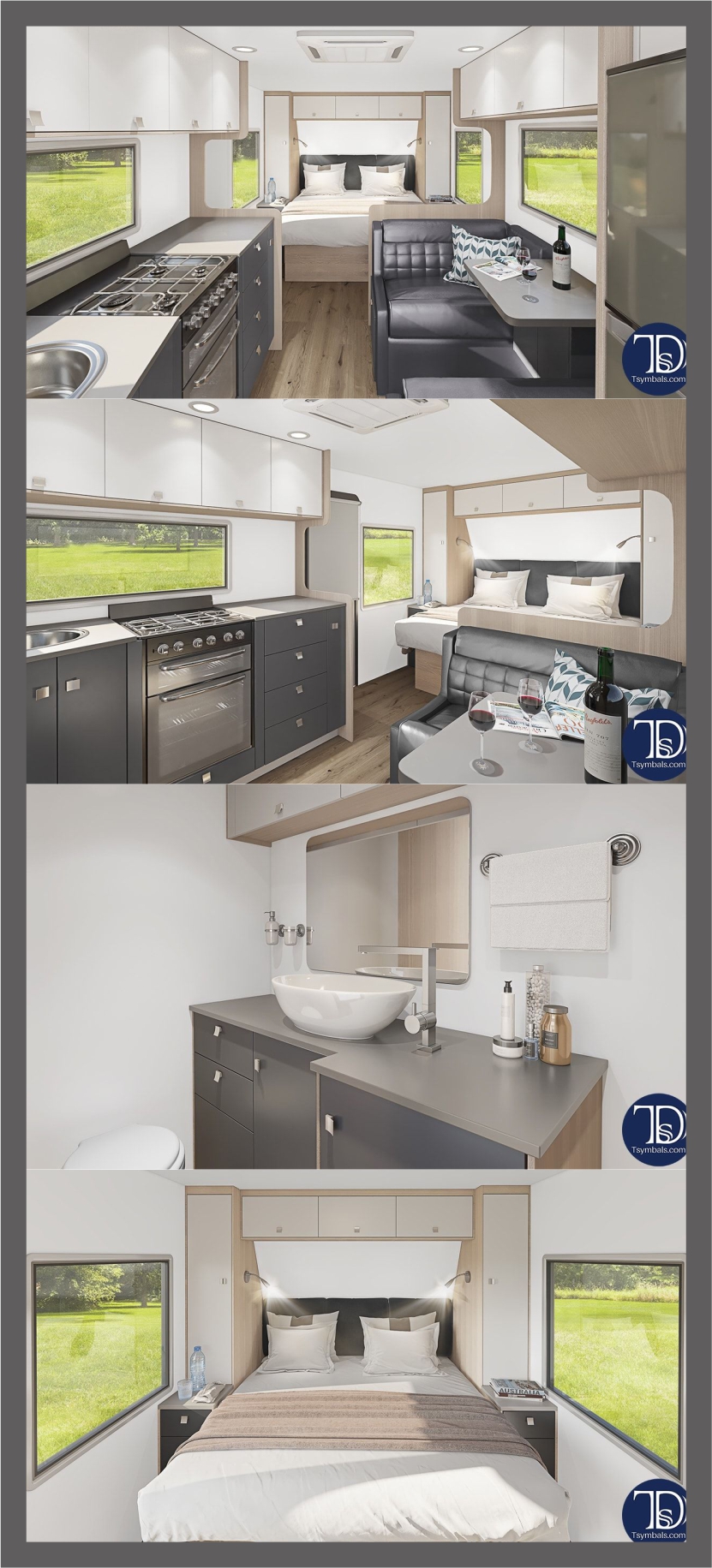 The large windows on both sides of the travel trailer show that it adopts open concept design. Along with the bright interior colors, the windows make the travel trailer feel airy and roomy. Besides, the kitchen and dinette placement in front of the bed makes it easier to serve breakfast.
Small yet contemporary travel trailer design
This travel trailer uses matte polymer materials to create a modern look. In addition, it also uses grey and soft white color combinations to enhance its vibe. The teal-colored u-shaped dinette sofa, however, acts as a highlighter and adds a bit of natural touch.
Related : Type C Motorhome
Conclusion
To conclude, after reading this, you might already have some basic knowledge of towable campers. Although the information about the plus and minus of each camper is not perfect, since we only compare two types of campers, it should be enough for starters. Feel free to read about the other types of recreational vehicles, because they might have more value for you. Also, browsing more design ideas can inspire you to design your own camper interior to suit your interests and preferences.